Halloween approche lentement, et comme tous les ans, c'est l'heure de l'Oktorrorfest sur le blog des Téléphages Anonymes, avec au programme un marathon de cinéma fantastique et d'horreur pendant un peu moins de deux mois, de mi-Septembre à mi-Novembre...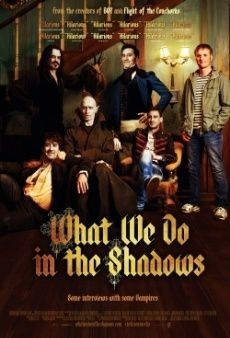 Vampires en toute intimité (What We Do in the Shadows) :
Viago (Tiaka Waititi), Deacon (Jonathan Brugh), Vladislav (Jemaine Clement) et Petyr (Ben Fransham) sont quatre vampires d'âges et d'origines différents, qui vivent en colocation dans une demeure à Wellington, Nouvelle-Zélande. Suivis par une équipe de reporters qui tourne un documentaire sur leur groupe, les vampires vont se confier aux caméras, jusqu'à que Nick (Cori Gonzalez-Macuer) ne deviennent l'un d'entre eux et, par son manque de self-control et de manières, chamboule radicalement leurs vies.
Un documenteur signé de l'un des Flight of the Conchords, et qui parodie le genre vampirique avec habileté et humour : on ne s'ennuie jamais, les effets visuels sont de qualité pour un film à 1M$ de budget, et si certaines pistes sont un peu trop prévisibles et/ou manquent de punch pour vraiment fonctionner totalement (tout le mystère sur "La Bête" est beaucoup trop téléphoné), le tout reste éminemment sympathique et amusant.
4.25/6