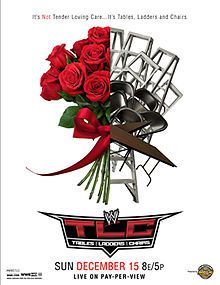 TLC: Kickoff - (Pre-show)
- Fandango vs. Dolph Ziggler - Singles match
Aucun intérêt, du meublage. Fandango jobbe à tout va, Ziggler ne va nulle part. Ce serait l'occasion de réétablir l'un des deux hommes via une victoire compétitive, mais bon...
- AJ Lee (c) vs. Natalya - Singles match for the WWE Divas Championship
Là aussi, du meublage, et le 899652è affrontement entre les deux femmes. Donner la ceinture à Natalya serait stupide à ce point du règne d'AJ, donc... les bookers risquent de céder à la tentation de promouvoir encore un peu plus Total Divas en donnant la ceinture à Natalya. Espérons que non.
- Big E Langston (c) vs. Damien Sandow - Singles match for the WWE Intercontinental Championship
Idem. Encore un rematch sans intérêt, et Big E ne perdra pas la ceinture.
- Daniel Bryan vs. The Wyatt Family (Bray Wyatt, Luke Harper and Erick Rowan) - 3-on-1 Handicap match
Un match handicap qui repose sur un feud tiède, dans lequel Bryan domine, et Wyatt tente de réveiller la bête qui est en lui. Bryan devrait dominer, pour possiblement être vaincu par le nombre de ses adversaires, et peut-être céder à son côté obscur en post-match.
- CM Punk vs. The Shield (Dean Ambrose, Seth Rollins and Roman Reigns) - 3-on-1 Handicap match
Le Shield va se désintégrer de lui-même, Reigns va donner une Spear à l'un de ses partenaires, et Punk va gagner.
- Cody Rhodes and Goldust (c) vs Ryback and Curtis Axel vs Big Show and Rey Mysterio vs The Real Americans (Jack Swagger and Antonio Cesaro) - Fatal Four Way tag team match for the WWE Tag Team Championship
Un gros bordel, pour lequel je ne vois pas les Rhodes perdre.
- John Cena (WHC) vs. Randy Orton (WWE) - Tables, Ladders and Chairs match to unify the WWE Championship and World Heavyweight Championship
Le gros morceau de la soirée, et le seul match correspondant au titre du PPV. Malheureusement, la WWE a tellement insisté sur le fait "qu'un seul homme quittera le PPV avec les deux ceintures", en choisissant bien son vocabulaire, que je redoute une situation du genre "Cena et Orton font un big spot, se retrouvent KOs, et Triple H décide de décrocher lui-même les deux titres", ou "Cena décroche la ceinture d'Orton, Orton celle de Cena, et tout revient au status-quo, avec un non-finish". Dans un cas comme dans l'autre, ou même si l'un des deux hommes remporte le match... on en sortira tous perdants.