Chez les Téléphages Anonymes, de fin septembre à début novembre, on fête Halloween et l'Oktorrorfest, un marathon quotidien de cinéma fantastique et d'horreur...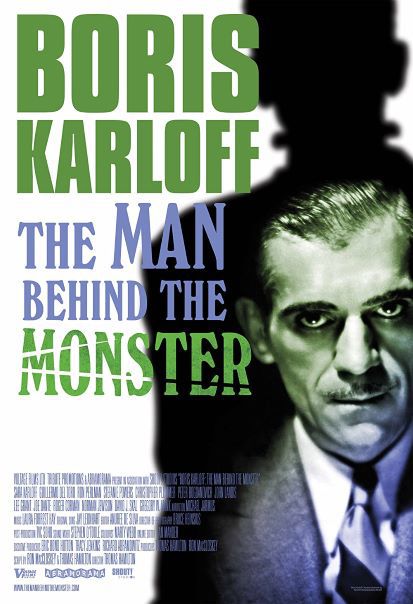 Boris Karloff - The Man Behind the Monster (2021) :
Un documentaire d'un peu plus de 90 minutes, co-produit par Shout! Studios (habitués des bonus dvd et autres éditions spéciales), qui revient sur toute la carrière de Boris Karloff, et sur son influence sur le genre du cinéma fantastique et d'horreur.
Avec des interventions de Guillermo Del Toro, de Sara Karloff (la fille de Boris Karloff), de Joe Dante, de John Landis, de Dick Miller, de Roger Corman, de Ron Perlman, de Peter Bogdanovitch, etc.
Un métrage chronologique un peu scolaire et austère, mais intéressant pour les cinéphiles, et qui passe en revue la quasi-totalité des métrages dans lesquels Karloff a joué, de ses débuts muets dans des rôles ethniques, à son doublage du dessin animé The Grinch, en 1966, en passant par sa révélation lors de Frankenstein, Le Masque de Fu Manchu, la Momie, The Black Cat, Charlie Chan, son engagement dans le syndicalisme hollywoodien, ses passages à vide dans les années 30, sa réinvention sur les planches de Broadway avec Arsenic et Vieilles dentelles, et la renaissance de sa popularité dans les années 60, lorsque les films qui ont fait son succès ont commencé à être diffusés à la télévision.
Plutôt agréable, ce portrait, pour peu que l'on s'intéresse à l'industrie.
4.5/6
​--
Et comme toujours, vous pouvez retrouver la liste complète de tous les films passés en revue dans le cadre de l'Oktorrorfest dans le menu Index de haut de page, ou en cliquant directement sur ce lien...