Au programme : un film par jour, cinq jours par semaine, et des critiques d'une vingtaine de lignes, tout au plus.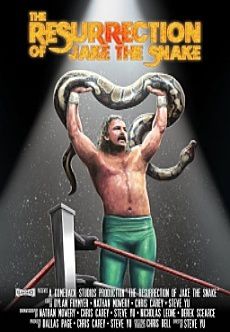 La Résurrection de Jake The Snake (The Resurrection of Jake The Snake) :
Un documentaire assez réussi retraçant la quête de sobriété de Jake The Snake Roberts, passé de légende du monde du catch à épave alcoolique et droguée.
Avec l'aide de Diamond Dallas Page, et de son programme de yoga/life coaching, Jake retrouve progressivement, au fil du temps, des mois, et des rechutes, un semblant de forme, puis carrément toute sa tête et sa santé, pour enfin être intronisé dans le Hall of Fame de la WWE, scellant ainsi son retour en grâce.
Assez touchant, surtout lorsque l'on pense à tous ces catcheurs qui ont fini au fond du trou et n'ont pas réussi, eux, à s'en extirper, certains apparaissant même dans ce documentaire.
Seul bémol, le tout semble parfois un peu forcé niveau émotions et colères, mais je suppose qu'il faut s'attendre à cela lorsque l'on filme des catcheurs...
Un bon 4/6