Noël approche, et comme tous les ans, c'est l'heure de la Christmas Yulefest sur le blog des Téléphages Anonymes, avec au programme un marathon de cinéma festif pendant toutes les fêtes de fin d'année...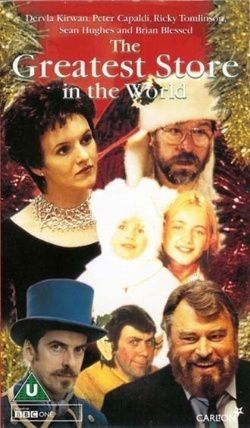 The Greatest Store in the World :
Sans domicile après l'incendie de leur caravane, Geraldine (Dervla Kirwan) et ses deux filles, Livvie (Elizabeth Earl) et Angeline (Holly Earl) cherchent un endroit où passer les nuits à venir. Elles finissent par arrêter leur choix sur Scottley's, le grand magasin le plus luxueux de Londres, où elles passent plusieurs nuits successives, échappant à la surveillance du portier, Mr Whiskers (Peter Capaldi). Mais la nuit de Noël, deux voleurs incapables tentent de cambrioler Scottley's...
Un téléfilm anglais diffusé sur la BBC, et qui se regarde tranquillement, notamment grâce à sa durée limitée de 74 minutes, et à sa distribution sympathique.
Malgré une narration en voix-off pas forcément inspirée, un placement produit périmé du S Club 7, une jeune héroïne parfois agaçante, et un virage au Maman, j'ai raté l'avion-bis dans la dernière partie du film, ce n'est finalement pas désagréable.
Anecdotique et clairement à destination des enfants, certes, mais pas désagréable.
3/6