Après une première soirée de King Of Trios 2014 assez plate et peu mémorable, et un second show un peu plus convaincant (principalement grâce au Rey De Voladores) place à l'ultime soirée de cet évènement indépendant...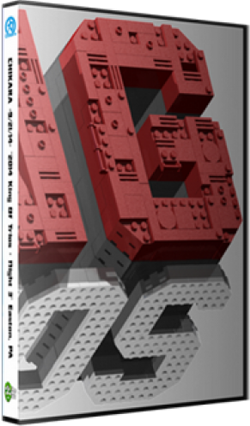 Chikara - 14x11 - King of Trios Night 3 (21/09/2014) :
- KOT - The Golden Trio vs The Flood. Pas franchement fan de Jimmy Jacobs, de (face) Icarus, et du mec en tenue de gimp, donc un bon gros bof pour la moitié des forces en présence, et puis les quelques moments brouillons et semi-botches n'aidaient pas ce match de dix minutes. Pas mauvais, mais quelconque.
- KOT - 3peckO vs Devastation Corp. Un long match dynamique et assez sympa.
- Mark Andrews vs Oliver Grimsly. Un match de cruiserweights assez tranquille.
- Tag Team Gauntlet. De la grosse comédie hilarante entre Old Fashioned et Los Ice Creams ; un peu de flottement ensuite, de l'action solide, de l'action un peu plus anecdotique, et toutes les équipes de la compagnie qui y passent.
- Submission Squad vs The Gentlemen's Club. Du grand nawak hilarant de bout en bout, avec des freeze frames, des poses, des trahisons, retrahisons et réconciliations, un arbitre qui se mèle à l'action, et plein de gimmicks improbables.
- Rey de Voladores Finals, Shynron vs The Great Sanada. À la fois méthodique (Heel Sanada oblige) et acrobatique (Shynron inside), un match très réussi.
- KOT finals - Golden trio vs Devastation Corp. Excellent trios match, long et épique. À nouveau, une réussite.
- Brawl entre le Flood et quelques-unes des faces de la compagnie, promo de Jacobs qui oblige Icarus à donner le titre à Kingston, et face turn de Kingston qui se retourne contre le Flood.
---
Un ultime nuit sans vraie déception, puisque même les matches les plus faiblards étaient sympathiques. Reste que le KOT 2014 était une expérience assez mitigée (à l'intérêt et la qualité allant clairement croissants, avec une Night 3 >> Night 2 >> Night 1), qui sentait clairement la compagnie en pleine reconstruction et réorganisation financière. En espérant que la version 2015 soit un peu plus fournie en guests... un Trio Team Impact Wrestling, par exemple, serait le bienvenu...